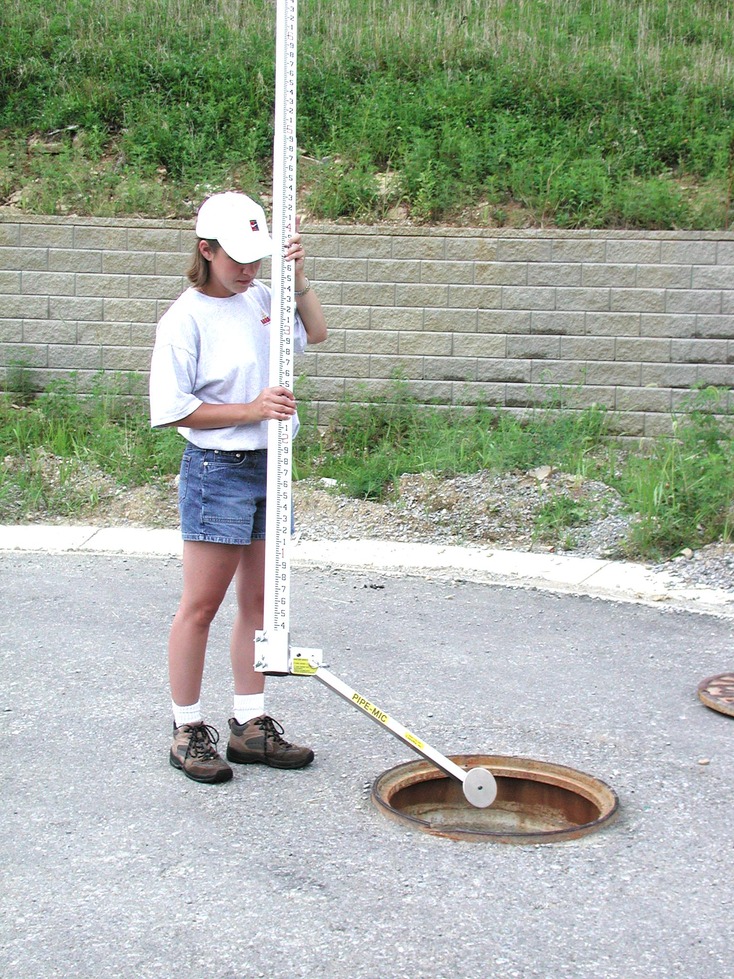 Measure pipe inverts and sizes fast, easy & accurate.

​Made in the USA​
* Measurements are more accurate because you are measuring with a
​vertical plumb rod.
​* Made for Crain 25' SVR, USL rods and our new double sided

PIPE-MIC II


​rod.
* Made of lightweight (two pounds) non rusting aircraft aluminum.
* No tools needed​​ to attach to rod.
* Slides on and off in seconds.
* Round foot design slices through material at bottom of pipe and
​insures accurate invert and pipe diameter measurement.​​


​​
​By pulling a pin in just seconds you can go from zero to 1 ft. vertical offset for clearance under rod.
Testimonial on the

PIPE-MIC II

-
"We have been using the PIPE-MIC II for over 4 years and have found it to be an invaluable tool. We initially purchased it for a contract with a local sanitation district. Accurate invert elevations and pipe sizes were needed for sewer force mains, trunk lines, secondary lines as well as storm drain lines, catch basins and other structures. All of these measurements were obtained using the PIPE-MIC II, including manhole invert elevations that exceeded 25 feet; it would have been impossible to get accurate pipe sizes and inverts at the depth using the "old method". The PIPE-MIC II has not only increased the accuracy of our reading buy allowed us to obtain those readings more quickly and safely. Thank you for such a wonderful product." Jason Moore- Proactive Engineering Consultants, Inc.​
To use:


* You can direct read the depth of the invert when the pin is set at "zero offset" on the

PIPE-MIC II

.
* If you need clearance under rod to measure an invert move the pin to "1' vertical ​​offset hole"
* If you need clearance under rod and a pipe that is hard to reach you can add a 1 ft. extension.
(1 ft. extension sold separately) Move pin to " 1 ' vertical offset w/ 1' extension" hole.


To size a pipe:


The foot is 0.33 or 4". Take the reading from the rim, pull up and take reading plus 0.33 and that is your pipe size.​​​​
New Double Sided

PIPE-MIC II

Rod

*​​ Made exclusively for the

PIPE-MIC II


* Reduces multiple setups when using a
​Total Station or Auto level.
* Printed in tenths on front & back of rod.

Part # 172510


PIPE-MIC II

Double Sided Rod 25' 10th
​​​​​​
​
Example:
4" Pipe - 0.00 movement
6" Pipe - 0.17
8" Pipe - 0.33
10" Pipe - 0.50
12" Pipe - 0.67​​​​​
Part # Description
1702PM2 PIPE MIC II
1736ARM ​​ 3' Arm
172510 Double sided 25'
Rod in 10th​​
​
®

®